Before buying a property in Mumbai, it is essential to know why owning a house in India's financial and entertainment hub is profitable. Mumbai has always been a sought-after location for anyone looking for a dynamic and exciting lifestyle. 
The city continues to draw visitors from all walks of life thanks to its towering skyscrapers, busy streets, and distinctive fusion of cultures. 
Let's dive straightaway into the main steps you must follow when you buy house in Mumbai.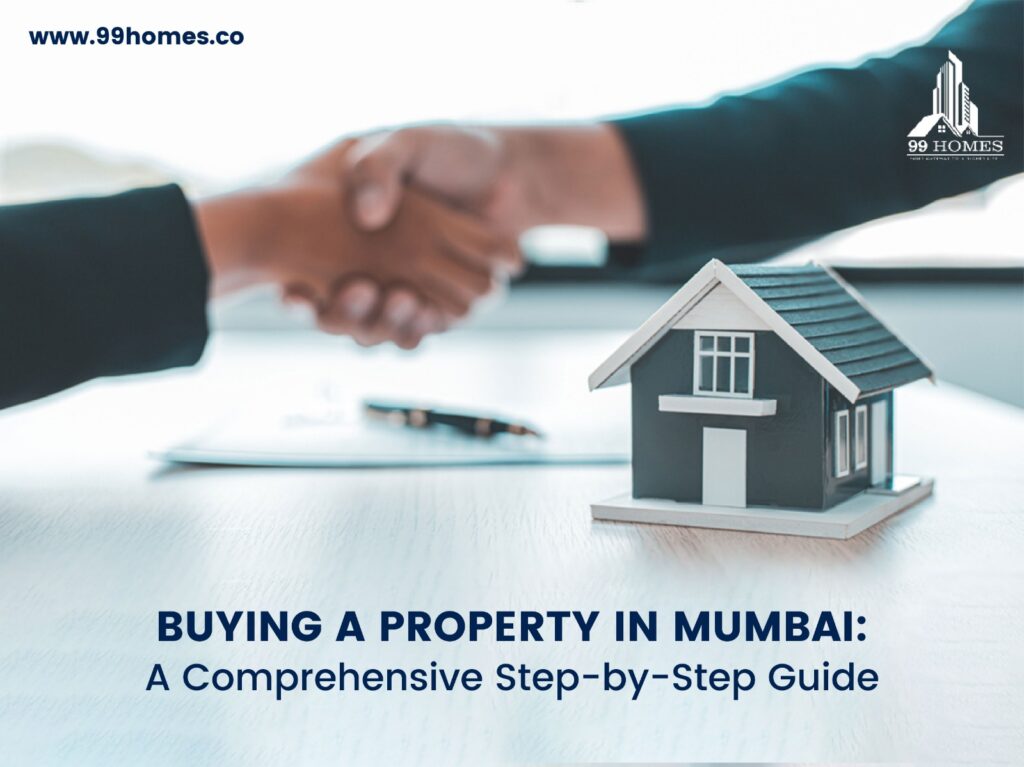 9 Steps To Find A Perfect Property In Mumbai
Step 1: Define Your Requirements
First and foremost, you must identify your requirements precisely before commencing your search for a property in Mumbai. 
Budget, preferred location and the type of property you're looking for are the main aspects you must consider. Defining your essential criteria will establish the groundwork for your property-buying process, regardless of whether you're interested in a 1bhk, compact 2bhk or a spacious 3BHK flat in Mumbai.
Step 2: Research the Market
Once you know exactly what you need, it is time to do some market research. Look out for neighborhoods in Mumbai to learn about property costs, local conveniences, and future prospects. Utilize property listing websites and internet real estate portals, and speak with real estate brokers. Renowned properties like Crescent Bay Parel, Lodha NCP, Piramal Mahalaxmi, and more offer the best-in-class amenities, providing the perfect balance of style and comfort for you and your family. 
Step 3: Set a Realistic Budget
We suggest establishing a realistic budget before beginning your hunt for a property in Mumbai. Consider your assets, current financial resources, and loan opportunities to reach an approachable budget. 
You can also seek professional advice from an experienced financial counselor. Remember to account for extra costs in your budget, such as brokerage fees, registration fees, and stamp duty. 
Having sailed through this complex yet crucial step makes it easier to navigate the remaining steps, ensuring you get precisely what you are looking for in your budget. There's no point in scouting for properties across the city if you don't have a budget. 
Step 4: Secure Financing
It's always a good idea to plan your finances ahead of time and see if you need any financial support in your process of buying a 2bhk or a 3bhk flat in Mumbai. When researching various lenders, compare interest rates, loan terms, and eligibility requirements. For a seamless loan application procedure, be ready with the required evidence and documents, such as income proof, identity proof, and property documents.
Step 5: Engage with a Reliable Real Estate Agent
Partnering with a trusted and experienced real estate agent can make your property-buying process 10x easier. Look for agents with in-depth market knowledge and a track record of successful transactions. Communicate your requirements clearly to your agent to ensure they understand your needs and can offer you the best of what matches your needs. 
We at 99Homes are committed to helping our customers find the best 1bhk, 2bhk, or 3bhk flat in Mumbai, ensuring the best returns for their investment. 
Step 6: Visit Properties and Inspect them Thoroughly
Once you have shortlisted the properties that suit your requirement in terms of cost, location, and amenities, it's time to start visiting them in person. 
Carefully consider the benefits and amenities offered, features, construction level, and each property's general condition to compare them later. Never be afraid to clarify any uncertainties you may have by asking inquiries. 
For instance, if you're looking for luxurious property options in the city center of Mumbai, you could check Cresent Bay Parel, 10 BKC, Piramal Mahalaxmi, etc., on our website for detailed insights. 
Step 7: Legal Due Diligence
Before finalizing any property, conduct thorough legal analysis and background checks. Verify the ownership documents, clearances, and approvals from relevant authorities. Ensure that the property is free from any legal disputes or encumbrances. 
Hiring a lawyer or a legal expert can help you navigate the complex legal aspects seamlessly while safeguarding your interests. 
Step 8: Negotiate the Price
It's time to haggle over the price once you've found the property in Mumbai. First, gather information about recent real estate transactions in the neighborhood to determine the current market rates. Then, to get the best bargain possible, use this information as a starting point for discussion and work closely with your real estate agent.
Step 9: Complete the Paperwork
Once the price has been agreed upon, it's time to complete the paperwork. Ensure that a legal expert appropriately drafts and reviews all necessary documents, such as sales agreements, before making the final decision.

Conclusion 
In summary, purchasing a property in Mumbai offers distinctive advantages, from a strong economy and plenty of work prospects to a dynamic and happy lifestyle. Moreover, the city's thriving real estate market offers various options to suit varied needs and price ranges.
Visit our website for more in-depth information about available property options across Mumbai. Get in touch with us, and experts will guide you through the process of getting the perfect home in the city of dreams.