Mumbai, the City of Hope and Aspirations, is a melting pot of diverse cultures and a home for millions of people where opportunities are limitless and dreams sky-high.  
Owning flats in Mumbai is a dream come true for many and let us tell you, it is no walk in the park. But amidst the hustle and bustle of this vibrant city, the question remains, is it truly worthwhile to own a flat in Mumbai? 
This is no small investment. It could either be the key to unlocking a world of possibilities or be a financial burden for you. Mumbai is a city full of opportunities that are ripe for the taking. But the decision to buy flat in Mumbai is yours to make. 
By carefully considering the pros and cons, you can ensure that you choose the perfect home for your family that comes with a secure and promising future. So let's begin: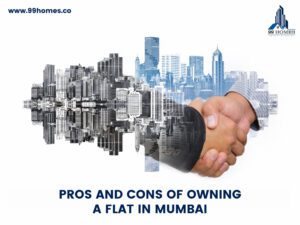 Pros and Cons of Buying Flats in Mumbai 
1.Prime Location 
Mumbai holds a spot on the map that's hard to beat.
It is known as the hub of finance and entertainment, and owning a flat in this urban jungle means you have a whole world of opportunities at your disposal. With malls, restaurants, theatres, and clubs galore, it's a paradise for the adventurous souls. 
Living in Mumbai is like living life in the fast lane, where each day is an adventure waiting to unfold. So don't miss your chance to be in the thick of the action and own a 2bhk in Parel or other prime locations like BKC, Wadala, Worli, etc. After all, the early bird catches the worm, and in this city, time is money.
2.Luxury Living 
Owning a flat in Mumbai is like owning a piece of paradise.
Picture this. You're in the mood for a refreshing dip in the pool or a quick sweat session at the gym. But wait, what if you didn't have to leave your building to access these amenities? Score!
Having a luxury flat in the heart of Mumbai city simply means having access to a plethora of world-class facilities like well-equipped gyms, pools, jogging tracks, banquets, gardens,  clubhouses, and a lot more. All this is just a hop, skip and jump away. 
With stunning views of the sea and/or cityscape, high-end restaurants, world-class shopping centres, and cultural and heritage sites, you'll feel like you've hit the jackpot of luxury living. 
Most luxurious flats in Mumbai provide round-the-clock security and surveillance so you can live your life to the fullest, knowing that you and your loved ones are always protected. Buy flats in Mumbai and experience the luxurious life you dream of. 
3.Terrific Traffic 
In Mumbai, the hustle and bustle are part and parcel of everyday life. The streets are jam-packed with cars, buses, and bikes, making rush hour a nightmare. The city's population density is through the roof, which means getting around can be a total headache. 
If you're looking for peaceful, slow, and quiet living, Mumbai might not be your cup of tea. The population density is off the charts, and finding a flat in the heart of the city can be a real pain in the neck. Sure, the congestion can be a hassle. 
But it's also what makes Mumbai, well, Mumbai. It's what gives the city its character, its personality. And hey, if you can handle the traffic, you can handle anything.
4.Appreciating Property Value
The real estate scene in Mumbai is a goldmine of stability and profit. The value of Mumbai's properties skyrockets over time, giving you more bang for your buck.
For instance, in a 2bhk flat in Mumbai price has shot up by a whopping 50% over the last decade. Now that's what we call a good deal. So, if you're considering investing in real estate, Mumbai should definitely be on your radar. With its high appreciation value, it's a smart move that'll pay off in the long run. 
5.Unpredictable Weather 
There is no guarantee when it comes to Mumbai weather. One moment it's scorching hot; the next, you're drowning in a sea of rainwater. Mumbai weather patterns are so unpredictable that even the best weathermen can't make heads or tails of it.
And don't even get us started on the monsoon season; it's a watery nightmare. But the good news is that the city has enough resources to manage it well. So if you're considering owning flats in Mumbai and settling in, always keep an umbrella handy. 
6.High Cost 
Now that you are looking to buy a flat in Mumbai, we're assuming that you are well-prepared to tackle the living expenses. A 1bhk or 2bhk flat in Mumbai can cost you a whopping Rs 1 crore to Rs 5 crore. Of course, the price tag depends on where you want to live and the desired luxuries. 
Looking for a living space that's more than just four walls and a roof? You can consider One Meridian Wadala, which is not only budget-friendly but comes with advanced amenities, making it an ideal place to call your home. 
In Conclusion 
Now that we've reached the end of our pros and cons journey of owning flats in Mumbai, it's your chance to explore different options available in the city and book your dream home. 
Are you looking for the finest apartments in Mumbai? Let 99 Homes be your trusted real estate partner. We offer professional guidance to help you navigate Mumbai's property market and discover your dream luxury home. Contact us now to explore your options and take the first step toward finding your ideal apartment.