Home is where the heart is, but in India, finding a dream home can be quite a spree. 
As the Indian economy continues to soar to new heights, the real estate industry is experiencing an unprecedented boom, especially in metropolitan cities like Mumbai, Delhi, Kolkata, Chennai, and Bangalore. More and more people are out there hunting for their perfect adobe, and interestingly, the search for a 2 BHK apartments in India seems to be gaining momentum.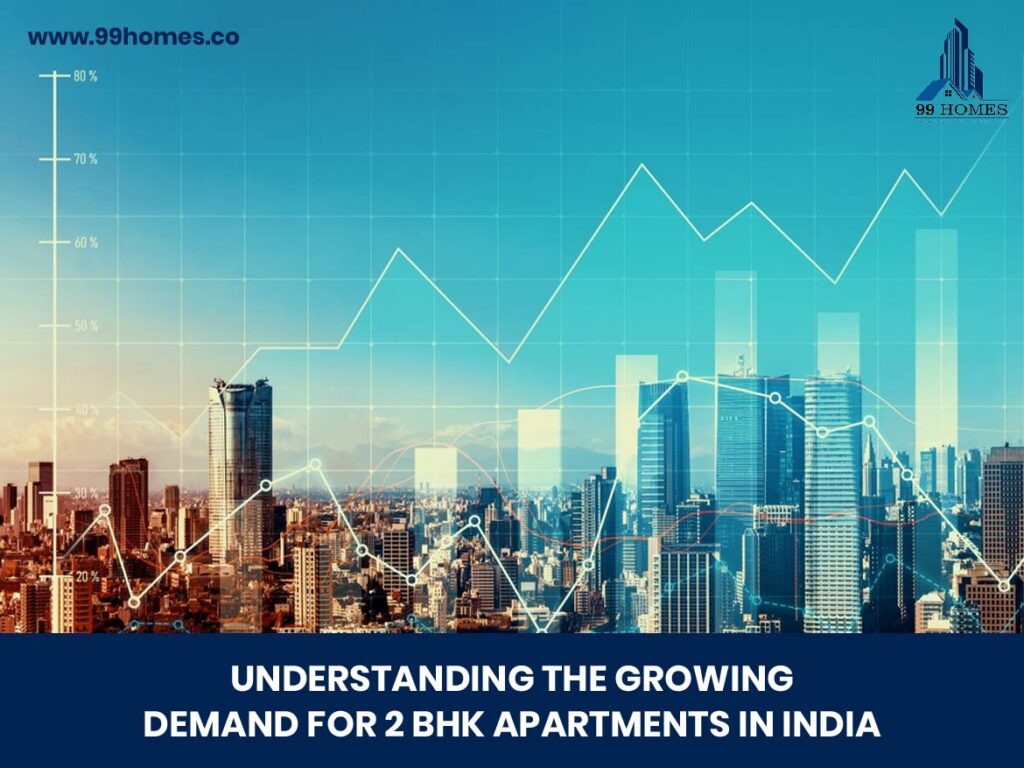 Factors What classifies as a 2 BHK flat?
A flat or an apartment is basically a residential unit that comprises a living room, bedrooms, a kitchen, and/or a balcony that comes in different configurations. Owing to the culture of living independently and the shift towards nuclear families have immensely contributed to the rising demand for apartments. 
Complemented with a variety of amenities and configurations, apartments come in variants like basic, premium, deluxe, etc. The ever-increasing demand to buy a 2bhk flat in Mumbai, Bangalore, Pune, Chennai, Delhi, and other metropolitan cities comes from the following factors. 
Factors Promoting The Demand For a 2BHK Flat In Mumbai 
Gone are the days when owning a big house was just a status symbol. Today, people prefer comfortable and affordable living spaces. Buying a house is a huge investment, and it is very important to find a home that fits your budget. 
Fortunately, 2 BHK flats are more affordable than larger homes. If you're looking to buy flat in Mumbai, then you are just on the right track. These flats offer ample living space for small families or couples without compromising on comfort or quality of life.  Also, smaller living spaces usually come with lower maintenance and utility costs, which can save you money in the long run. 
Perfect for Those Starting a Family
When it comes to purchasing a home in India, many factors come into play, especially for folks who are planning to start a family. And if you fall in the age bracket of 30 years or above, the need for a spacious and comfortable living space is unavoidable, right? 
And 1bhk won't necessarily suffice the need for a spacious place to make it your home. There, a 2bhk flat comes from trusted developers like One Meridian Wadala, Lodha NCP, etc., comes into the picture. An apartment that is not too tiny and not too big is a 2bhk flat. 
So, planning to start a family soon or settle your family in a better place? 2bhk flat is your way to go. 
A Realistic Economic Scenario 
Maintaining a home can be an expensive and time-consuming task. Maintaining 2 BHK apartments is easier as compared to 3bhk flats. But when you compare the cost of maintaining a 1bhk to that of a 3bhk, the difference is significant and can not go well with your financial situation in case you plan on saving for your future goals. 
Having a 2bhk flat in Mumbai or other metro cities, you can unlock the door to infinite opportunities while having fewer rooms to clean and maintain, which can save you both time and money. Moreover, smaller living spaces typically require less furniture and decor, which can also be a cost-saving factor. 
2 BHK apartments are more widely available in the real estate market as compared to 1bhk or 2bhk alternatives. They are generally readily available in almost every apartment building or tower. 
For those looking for spacious and comfortable apartments, 2 BHK apartments remain in high demand for years and will undoubtedly stay in demand for years to come. Even if you are looking to invest in a property, a 2bhk apartment in trusted projects like Ahuja o2, Crescent Bay Parel, etc. can be a good option. 
Wrapping Up 
So, now that you understand the basics of a 2bhk flat and the reasons for the growing demand for a 2bhk flat in Mumbai and other cities. You can consider possible alternatives from a variety of property options like 10 BKC, Saffron Residency, Piramal Mahalaxmi, Lodha NCP, One Meridian Wadala, etc. 
Discover your dream 2 BHK apartment today with our realty experts, and let us find the perfect space for you, tailored to your preferences and budget. Contact Our Experts Now and make your home buying journey a breeze!